Matek Flight Controller F722-Mini 20x20
 Matek F722 Mini 20x20 F7 Flight Controller 
Matek Systems is well known for their reliable electronics. This is their new 20x20 flight controller that sports a powerful F7 chip. Matek introduce a clever design with a PCB adapter board. With this adapter you can either make it a 20x20 flight controller or 30x30 flight controller. This allows the flight controller to be used in larger 5 inch mini quads or smaller 3 inch micro quads. 
The F722-Mini comes with the latest features such as dual gyro choices (MPU6000, ICM20602), VTX power switcher, dual camera switching, and 2-8S input voltage!
Specifications
MCU: 216MHz STM32F722RET6
IMU: MPU6000 & ICM20602, Dual Gyros built-in (SPI)
OSD: AT7456E (SPI)
Blackbox: 32M-byte Flash memory (SPI)
Baro: No barometer built-in.  support external barometer module (I2C)
5x Uarts (1,2,3,4,6) with built-in inversion
1x Softserial supported
8x Dshot/Proshot/oneshot outputs
1x I2C
1x SH1.0_8pin connector (Vbat/G/Curr/R6/S1/S2/S3/S4)
3x LEDs for FC STATUS (Blue, Green) and 3.3V indicator(Red)
Vbat filtered output power for VTX,  Switchable via AUX (modes tab-user1)
Dual Camera image switchable via AUX (modes tab-user2)
Convertible 20mm to 30.5mm mounting
Camera control: Yes
Smartaudio & Tramp VTX protocol: Yes
WS2812 Led Strip: Yes
Beeper: Yes
RSSI: Yes
Additional ADC for INAV analog airspeed
Power
Input: 6~36V (2~8S LiPo)
BEC: 5V 2A cont. (Max.3A)
LDO 3.3V: Max.200mA
Battery Voltage Sensor: 1:10 (Scale 110)
No Current Sensor built-in - supports external current sensor of PDB/4in1
FC Firmware
BetaFlight / INAV
Target: MATEKF722SE
Dimensions
Mounting

20 x 20mm/Φ3mm with Silicon Grommets
20 x 20mm/Φ2mm with Silicon & Brass Grommets
30.5 x 30.5mm/Φ3mm with Conversion Plate and Silicon Grommets

Dimensions:  28 x 28 mm
Weight: 5g
Includes
1x FC F722-mini
1x 20mm to 30.5mm conversion plate
6x Silicon grommets M4 to M3
6x Brass grommets M3 to M2
1x SH1.0_8pin cable 5cm
2x SH1.0_8pin connectors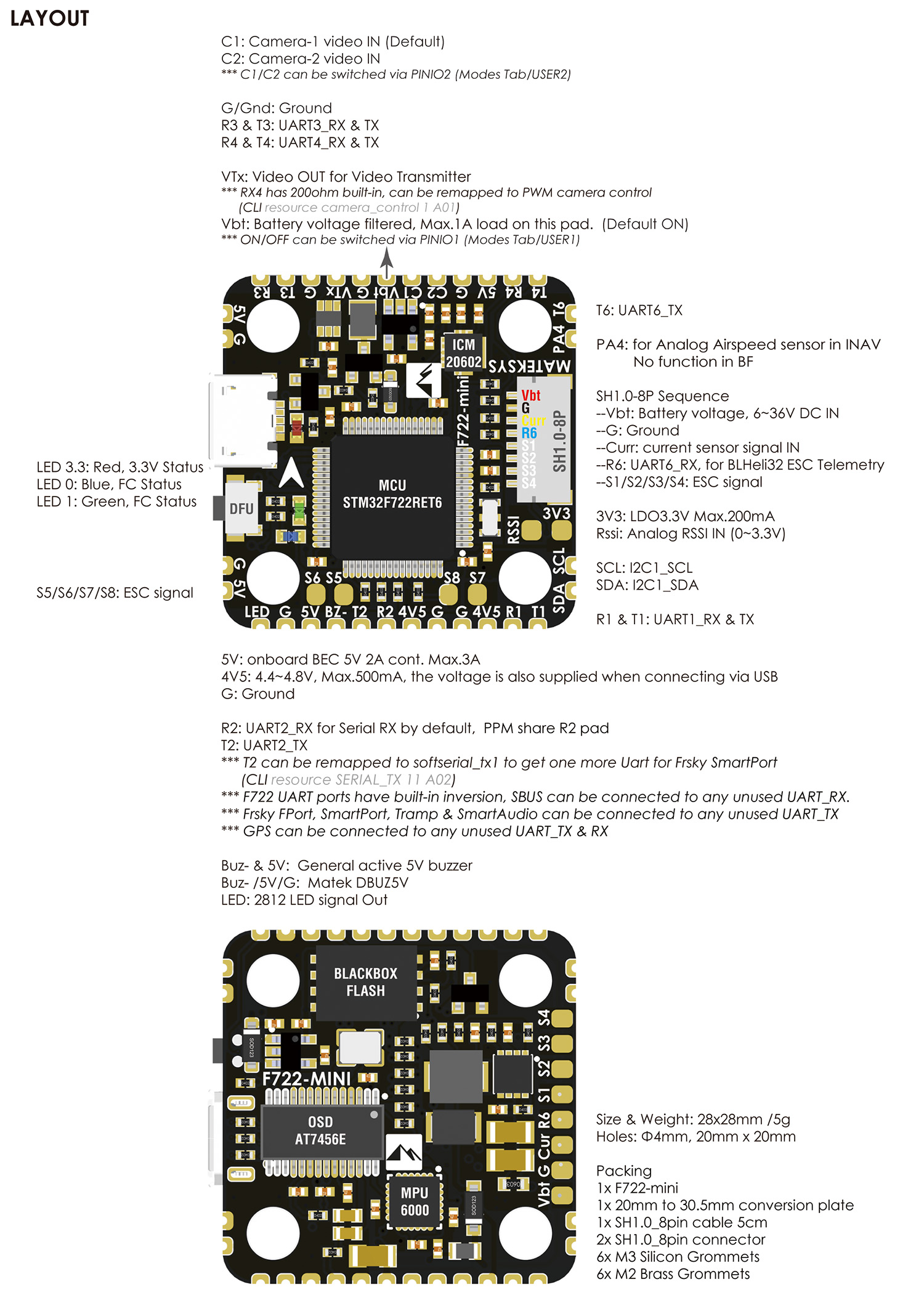 __________________________________________________________________________
Why buy from AirBlade UAV:
Fast and Affordable Shipping:

We ship everyday from Vancouver, Canada using USPS (US orders), Canada Post (Canada & International orders), UPS and DHL. Learn more about our

Shipping Policies

.

Top Notch Customer Support:

We put our customers' interest ahead.

Complimentary Free Shipping

: We offer free shipping for qualified US orders over $100 and qualified Canada orders over $250.

High Quality Products:

Most products we carry are tested extensively by our team of experienced pilots. We only carry products we would personally use.

Latest Selection:

We frequently refresh our stock selections to offer you the latest gears.

Support Community

: We support local and international FPV communities and sponsor racing leagues where we see fit.

 
Shipping Weight: 30g