Insta360 GO FlowState Stabilization
Insta360 GO HD Camera with FlowState Stabilization
Getting really good stabilized HD footage on micro drones has always been an unattainable dream, until NOW! With the new Insta360 GO, you can capture amazing stabilized footage on a micro drone, even as small as a Whoop.
First designed as a small personal HD camera, the Insta360 GO firmware can be updated (in-app) to enable FPV mode that lets you record up to 5 minutes, more than plenty for all of your shenanigans. 
GO's FlowState stabilization will keep your shots steady, no matter how fast you dip, dive and roll your drone. And you don't have to sacrifice quality for size with this FPV camera—Insta360 GO records 1080p videos, which is enough for Instagram and other video platforms. 
And we can't stress enough how light and small this camera is, it is only 20grams (including battery)! And it packs the same amazing FlowState Stabilization technology that you can find on other Insta360 cameras, which gives you amazing high-quality and stabilized drone footage. 
With this new camera, you can capture footage from cool perspective like a Third-Person View (3PV) or under the drone view, or backwards looking view etc. Even though launched not long ago, there are already many mounts made for this camera on your drones, make sure you check out Thingiverse for that. 
And for you spec nerds, check out the specifications below. 
Specifications 
Video Resolution
Standard: 2720x2720@25fps(Captured)/1080@25fps (Exported via app)
Interval Shooting: 2720x2720@25fps(In Camera)/1080@25fps (Exported via app)
Static Timelapse: 3040x3040@30fps(Captured)/1080@30fps (Exported via app)
Hyperlapse: 2720x2720@30fps(Captured)/1080@30fps (Exported via app)
Slow Motion: 1600x900@100fps (Captured) /1600x900@25fps (Exported via app)

Video Duration
Standard: 15seconds, 30seconds, 60 seconds, 5 minutes (FPV mode)
Interval Shooting, Slow Motion: 15 or 30 seconds
Hyperlapse: Adjustable interval, record up to 30 minutes to produce a 5-minute video
Static Timelapse: Adjustable interval, record up to 8 hours to produce 8 second video (24 hours option is coming soon)
Interval Shooting: Adjustable interval, record up to 7 days

Photo Resolution
3040x3040 (Captured)
1:1 Exported at 2560x2560
16:9 Exported at 2560x1440
9:16 Exported at 1440x2560

Video Format
insv (In camera) / mp4 (Exported via app)

Photo Format
insp (In camera) / jpg (Exported via app)

Video Export Bitrate
30Mbps (Exported via app)

Stabilization
FlowState (Built-in 6-axis gyroscopic stabilization)

Compatible Devices
iOS: iPhone 11/11 Pro/11 Pro Max,, iPhone XS/XS Max, iPhone XR, iPhone X, iPhone 8/8 Plus, iPhone 7/7 Plus, iPad Pro, iPad (2018)
Android Insta360 GO Android minimum configuration requirements: 1. OTG: Supports OTG 2. System on Chip(SOC): Qualcomm Snapdragon 6 Series 675 or above, Snapdragon 7 Series 710 or above, Snapdragon 8 Series 835 or above, Kirin 970 or above, Exynos 8895 or above 3. System Version: Android 7.1.1 or above (64-bit operating system) 4. RAM: 3 GB RAM or above

Video Modes
Standard, Interval Shooting, Static Timelapse, Hyperlapse, Slow Motion

USB
Micro-USB for Android device / PC / Mac

Onboard Storage
When connected to phone, GO content will be auto-transferred. GO's onboard storage is 8 GB, which can be used to store about 100 15-second video clips between each transfer.

Charging Method
GO charges in the included Charge Case.

Charging Time
Insta360 GO approx. 30min Charge Case approx. 90min

Run Time
60 minutes of run time for standard video (GO + Charge Case). Equivalent to 200 clips a day, averaging 18 seconds a clip.

Use Enviornment
Use temperature: 0℃~50℃ Storage temperature: -10℃~45℃ When GO's heat reaches its limit, the indicator will flash yellow and GO will vibrate to let you know.

Weight
Insta360 GO 18.3g Charge Case 43.3g

Size
Insta360 GO 49.4x21.4x14.85 mm
Charge Case 50.46x59.76x25.5 mm

Included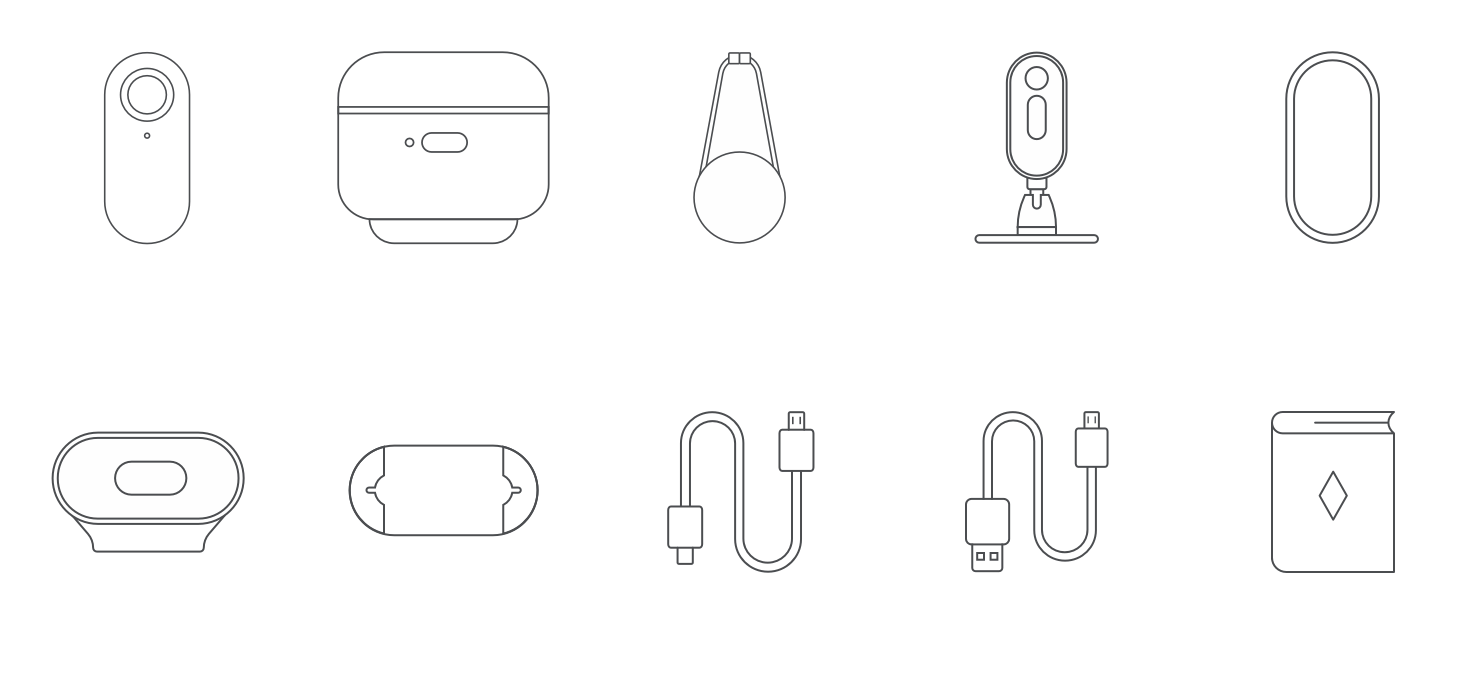 Insta360 GO + Charge Case

Magnet Pendant

Easy Clip

Angle Wedge

Sticky Base

Pivot Stand and Pivot Stand Base

Charge Cable Micro-USB to USB Type-C cable

Quick Start Manual

__________________________________________________________________________
Why buy from AirBlade UAV:
Fast and Affordable Shipping:

We ship everyday from Vancouver, Canada using USPS (US orders), Canada Post (Canada & International orders), UPS and DHL. Learn more about our

Shipping Policies

.

Top Notch Customer Support:

We put our customers' interest ahead.

Complimentary Free Shipping

: We offer free shipping for qualified US orders over $100 and qualified Canada orders over $250.

High Quality Products:

Most products we carry are tested extensively by our team of experienced pilots. We only carry products we would personally use.

Latest Selection:

We frequently refresh our stock selections to offer you the latest gears.

Support Community

: We support local and international FPV communities and sponsor racing leagues where we see fit.

 
Shipping Weight: 350g